Thiruvananthapuram art show Emblaze showcases the artistic skills of 26 women artists from across Kerala
Yamini Mohan with her work, 'The Hangar' | Photo Credit: Special Arrangement
Emblaze, currently at the Museum Art Gallery, displays works – paintings, installations and sculptures – by 26 women artists from across Kerala. A joint venture of the Center for Art and Cultural Studies and the museum, the exhibition was opened on International Women's Day.
"We have avoided sticking to one theme. The event celebrates their art and honors the contribution of these women artists," says Shijo Jacob, head of the department of painting, College of Fine Arts Kerala (CFA) Thiruvananthapuram and curator of the exhibition.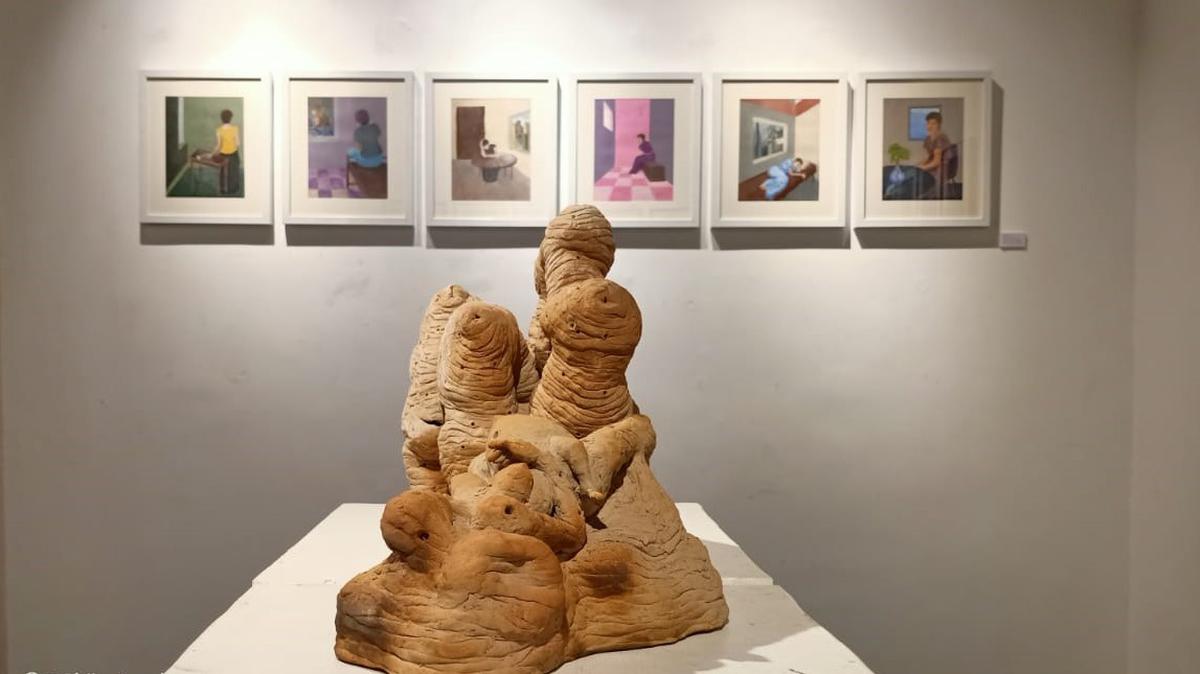 Works on display in 'Emblaze' | Photo Credit: Shijo Jacob
Artists include art teachers and critics, independent artists, and CFA students. There is diversity in terms of subject matter, composition, technique and idea. Personal, social, spiritual and emotional elements appear in most of the works.
Saumya VN with her series 'Study from Bus Journey' | Photo Credit: Special Arrangement
Saumya VN, a CFA student, captures faces in her self-explanatory acrylic painting 'Study from Bus Journey' [of people] He has seen during his journey by bus. "His face and body language often reflect what he may be going through; Every face has a story to tell. I am working on a project that focuses on ordinary people and bus travel is a part of it."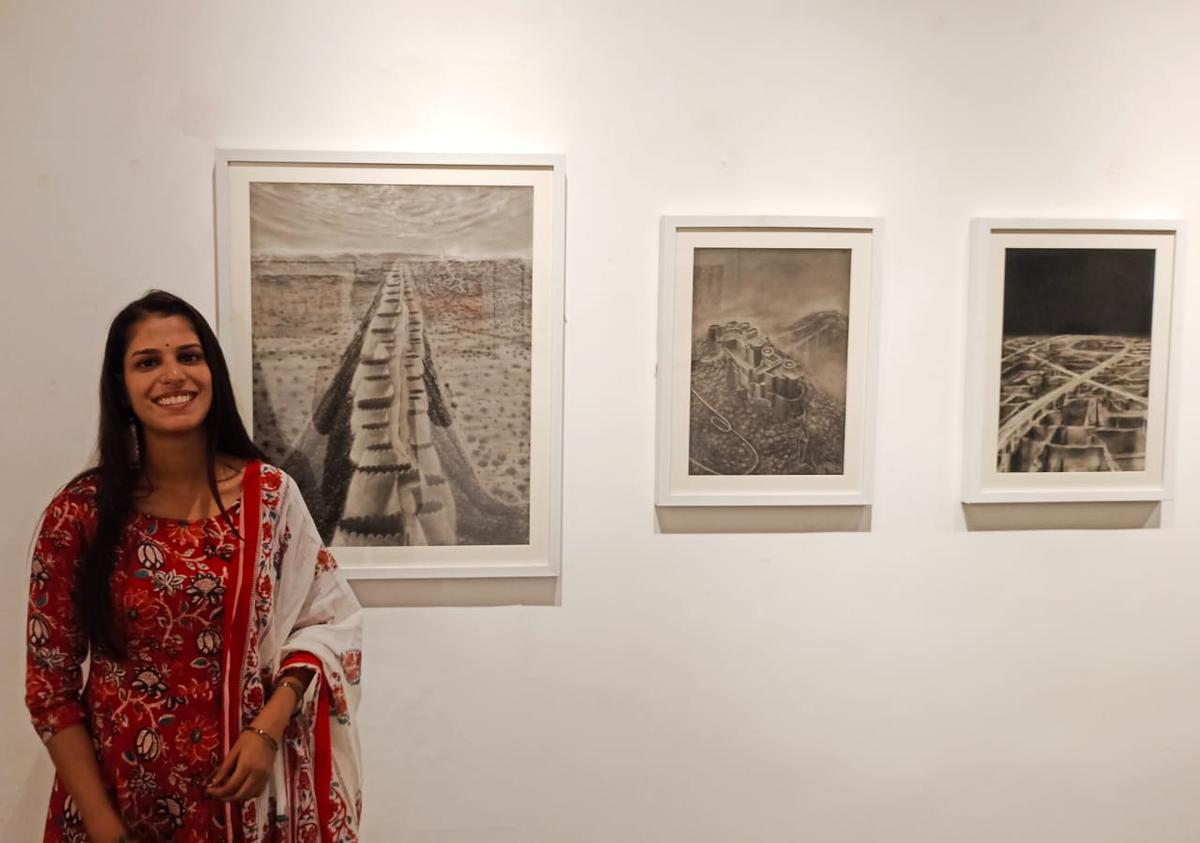 Deepa Kumawat with her painting done in charcoal | Photo Credit: Special Arrangement
Meanwhile, her classmate Deepa Kumawat takes the viewers to Rajasthan, where she hails from. In his Amber series, using charcoal on paper, he depicts the majestic old city of Amer with its forts. "People moved out of Amber, which is a UNESCO heritage site, in search of better prospects. So I thought about what an abandoned city would look like; That's how these pictures were born. My hometown Jaipur is also going through a similar situation with people opting for urban living," says Deepa. 'Vanishing Jaipur – Metrocity' is an ode to the grand old Pink City. After working with charcoal for the first time, Deepa says, "I have only done oil painting till now. I used charcoal because I thought it complemented the concept.
Charcoal has been Yamini Mohan's favorite medium for many years. The artist says, "Emotions have been a mainstay of my work and I feel that the language of art is expressed in a stronger, better way through charcoal than through paint." His work in charcoal and collage, 'The Hanger', shows lungs hanging from hangers, reminding us of the pandemic's devastating effect on the organ.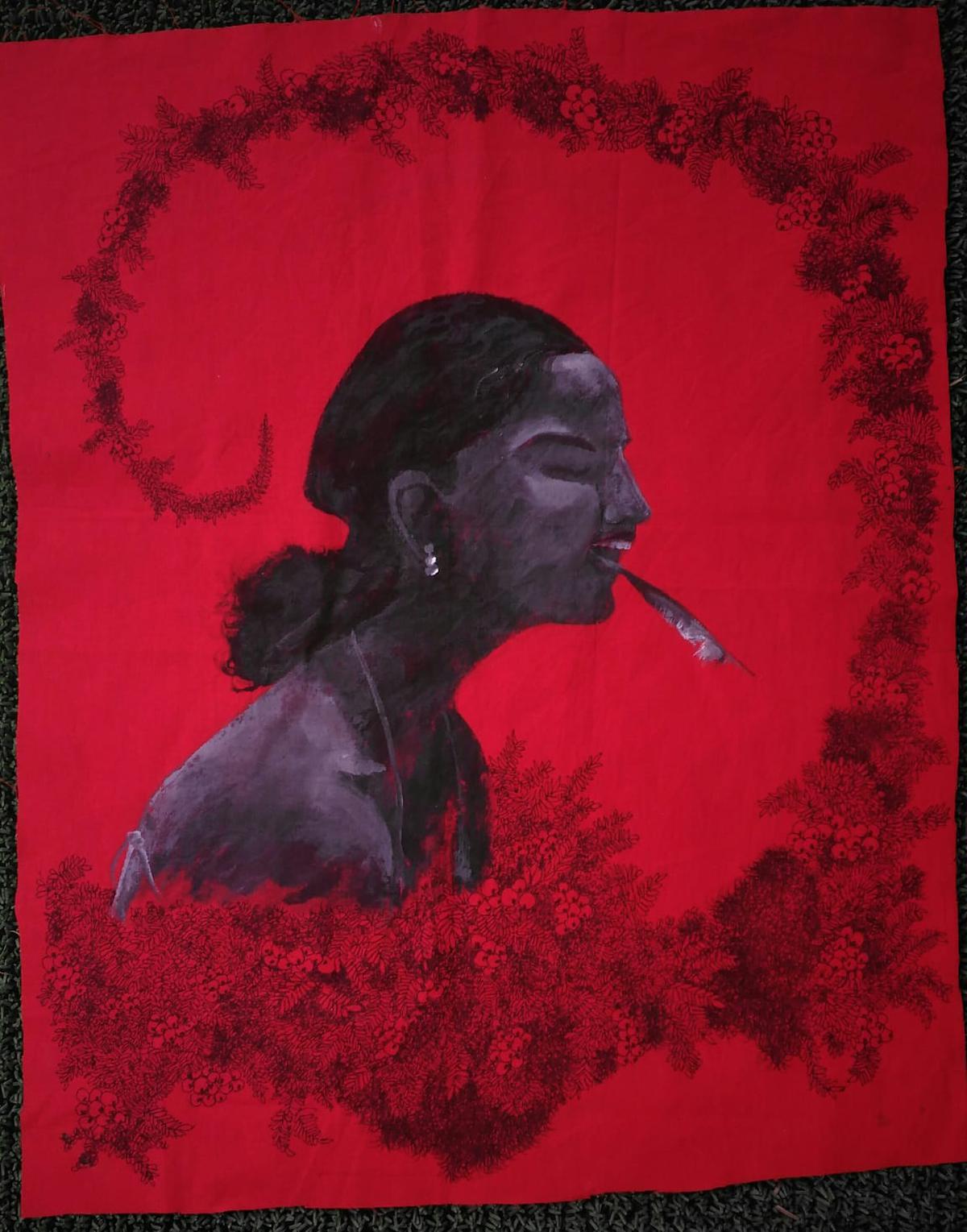 Work by Kavita Balakrishnan | Photo Credit: Special Arrangement
Poet and art critic Kavitha Balakrishnan goes back in time to her 13-year-old self when she traveled to Russia as a winner of the Soviet Land Nehru Prize for Painting. Kavita shared, "We were kids at the beach and friendship was a first of its kind experience for me. There was no hesitation and I have a picture of a kid painting my face. I captured that moment on canvas," says Kavitha, lecturer at Government College of Fine Arts, Thrissur. Also known for her photo poems or poetry sketches, the artist has displayed a series of them in 'Sugar-Coated Love'.
Frangipani ( Frost Or eezhachembakam) takes on a new meaning in the untitled watercolor series by N Santhi. artist attached it to cavus Or the sacred grove, an enigma to him during his childhood days. "We children were never allowed to go near the gardens. For the past five years, I've been showing vignettes from my childhood in my works and cavus has been one of the subjects. i found a connection between Frost And groves," says Santhi, who also exhibited a series on groves at the ongoing Kochi Muziris Biennale in Kochi.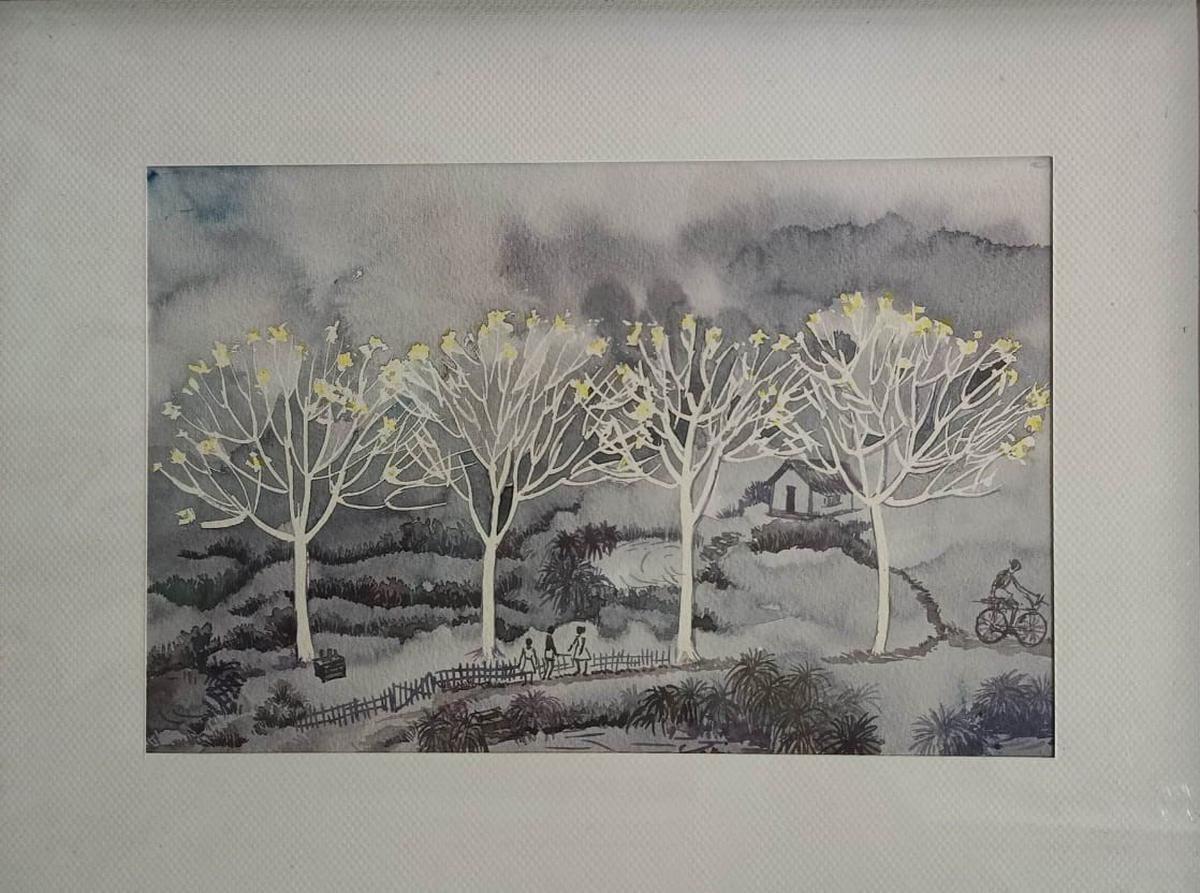 Work by N Santhi | Photo Credit: Special Arrangement
Celebrating nature with natural stains and watercolors is Hima Hariharan with her untitled series. "I stain the paper with the juice of flowers or leaves. I love working with that texture," says Hima.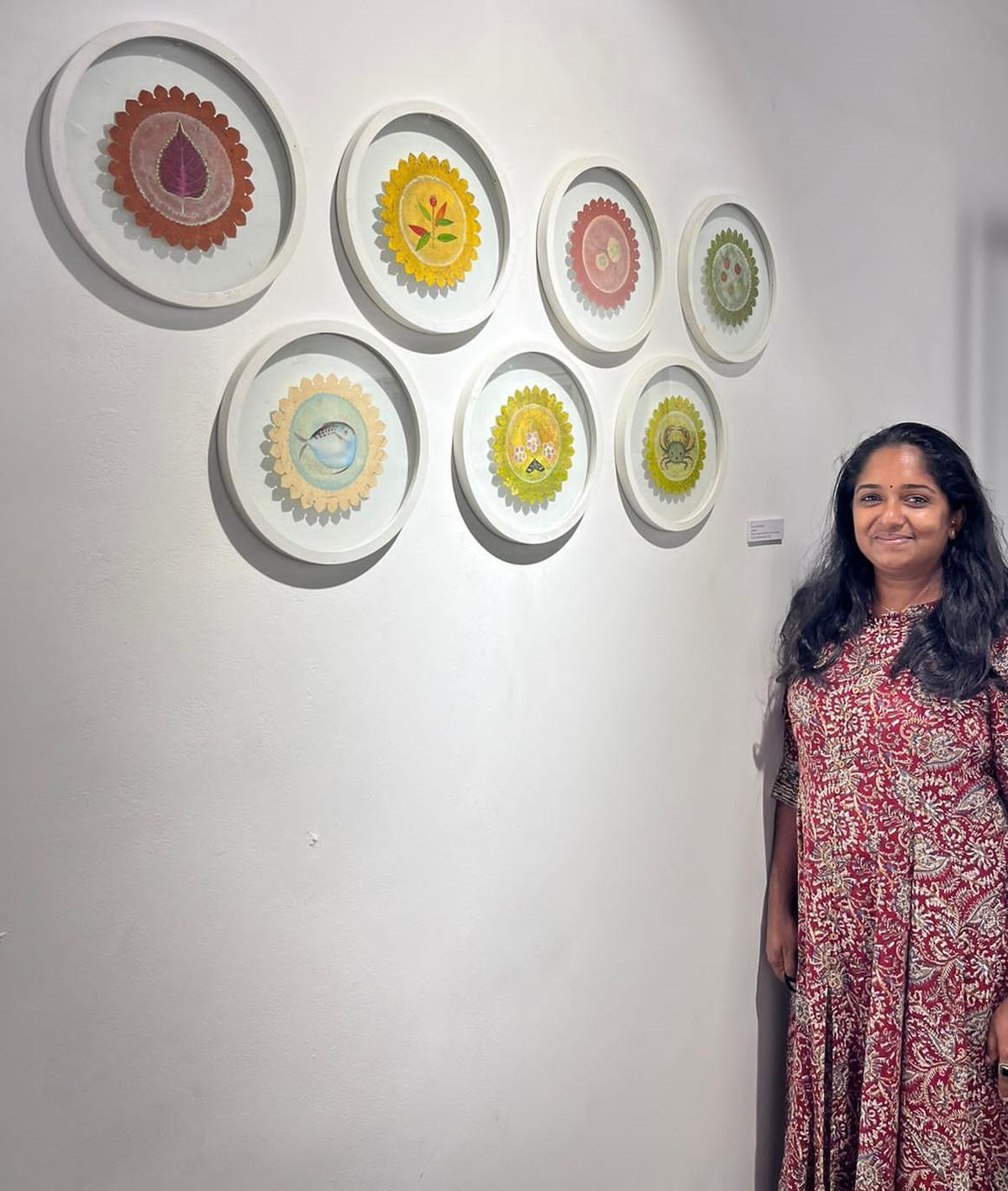 Hima Hariharan | Photo Credit: Special Arrangement
Among the installations displayed is the 'Xseeds' series by Sabita Kadanappally, done in fabric, synthetic cotton and metal. The feelings find a visual representation in the work, with the pillow as the main element. "The pillow provides that support when the emotions kick up," she explains.
The decorations are on at the museum, near Althra Junction, from 10.30am to 11.30pm on 20 March.
Tagged:
a museum
International Women's Day
Kerala
ornate exhibition
Thiruvananthapuram