The Lakme Fashion Week style file that got us talking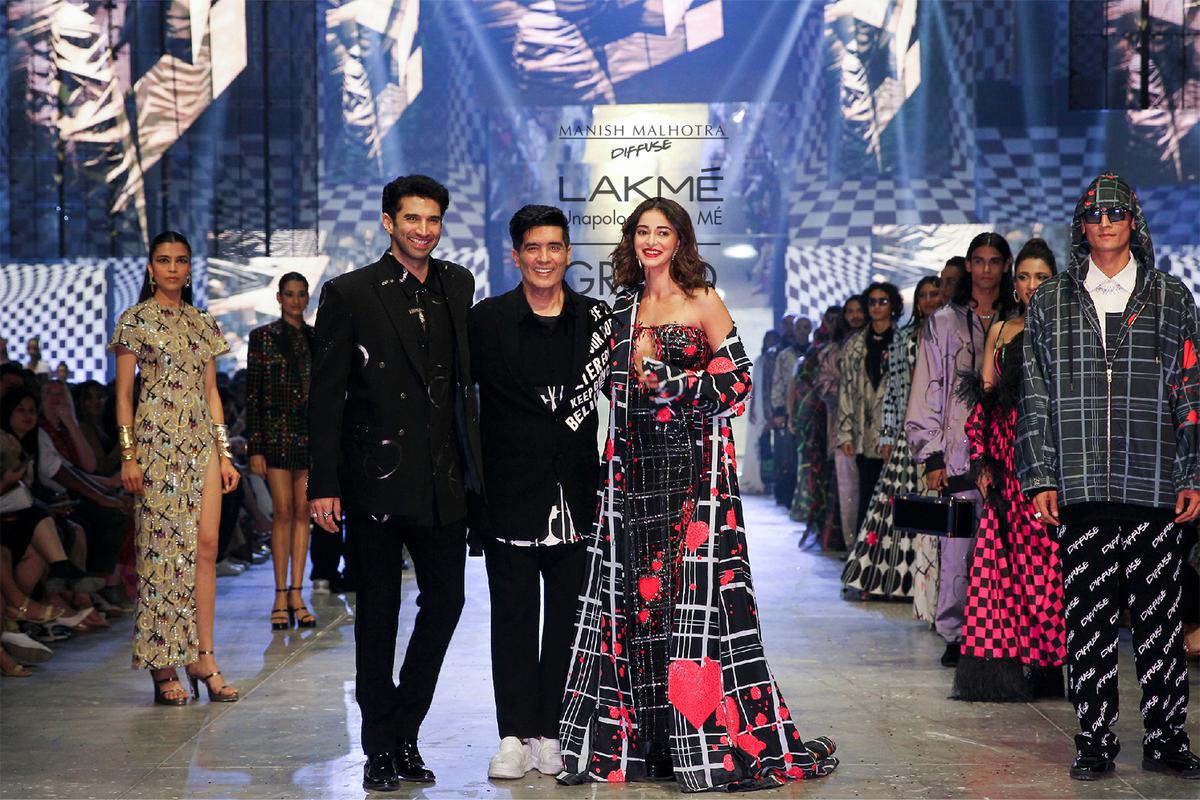 Manish Malhotra with Aditya Roy Kapur and Ananya Panday
When Someone like you came into my life, As an 80s hit soundtrack began to play on the low-lit stage, the audience filled with anticipation. And then, from behind the scenes, the iconic actress Zeenat Aman emerged. Dressed in a look that hinted at retro style, she walked the ramp in a Shaheen Mannan broad-collar, long-sleeved, black embroidered jacket with slits and plain black trousers. The actress looked as graceful as she did during the day in a pair of aviators and diamond studs. In a season full of Bollywood stars turning showstoppers for the designers, Aman stood out. It also set a tone for this season's Fashion Week — as trends come in, as Instagram and pop culture influence, timeless craftsmanship, attention to design, and good clothing makers continue to shine.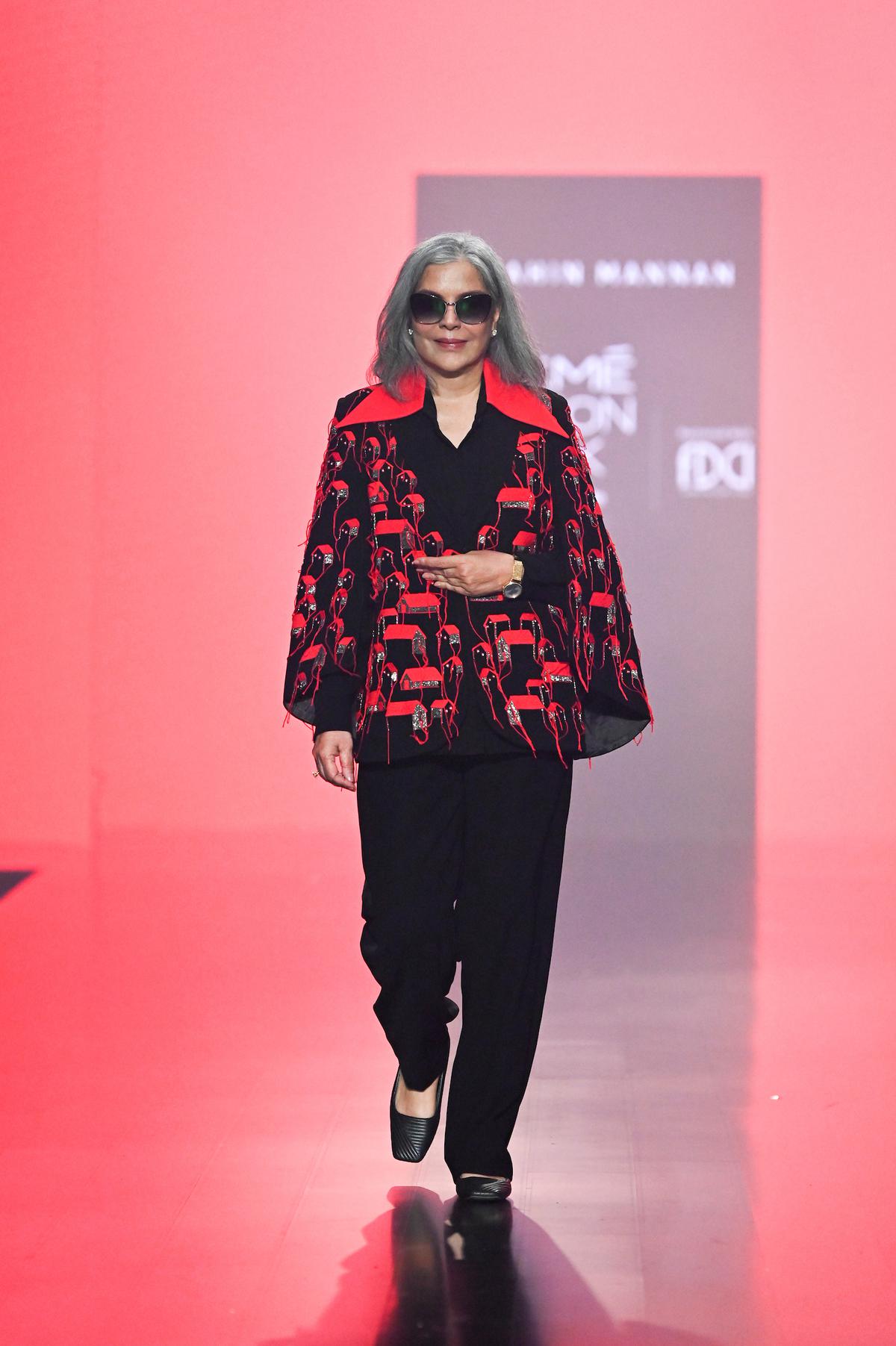 Zeenat Aman walks the ramp for Shaheen Mannan
The four-day showcase at Lakme Fashion Week, running from March 9 to March 12, in partnership with the Fashion Design Council of India lineup saw collections from heavyweights like Tarun Tahiliani, Manish Malhotra, JJ Valaya, Namrata Joshipura and Monisha Jaisingh – the latter With two returning to the runway after a hiatus- and promising young labels like Bodice, Antar Agni, Divyam Mehta, Arpita Mehta and Six5Six. There were initiatives such as the Circular Design Challenge, design partnerships such as GenNext and Khadi India, which continued to advance the conversation around innovation and mindful fashion practice. In the meantime, we highlight the designers who caught our attention:
a case for craft
Designer Anavila Mishra showcased a saree-laden collection paying tribute to her dabbu, an ancient mud-resistant hand-block printing technique from Rajasthan. It also included natural colors of ivory, ochre, sage green, indigo, madder, etc. Kashish Blend black, gold and silver with geometric and floral motifs on unstitched fabrics.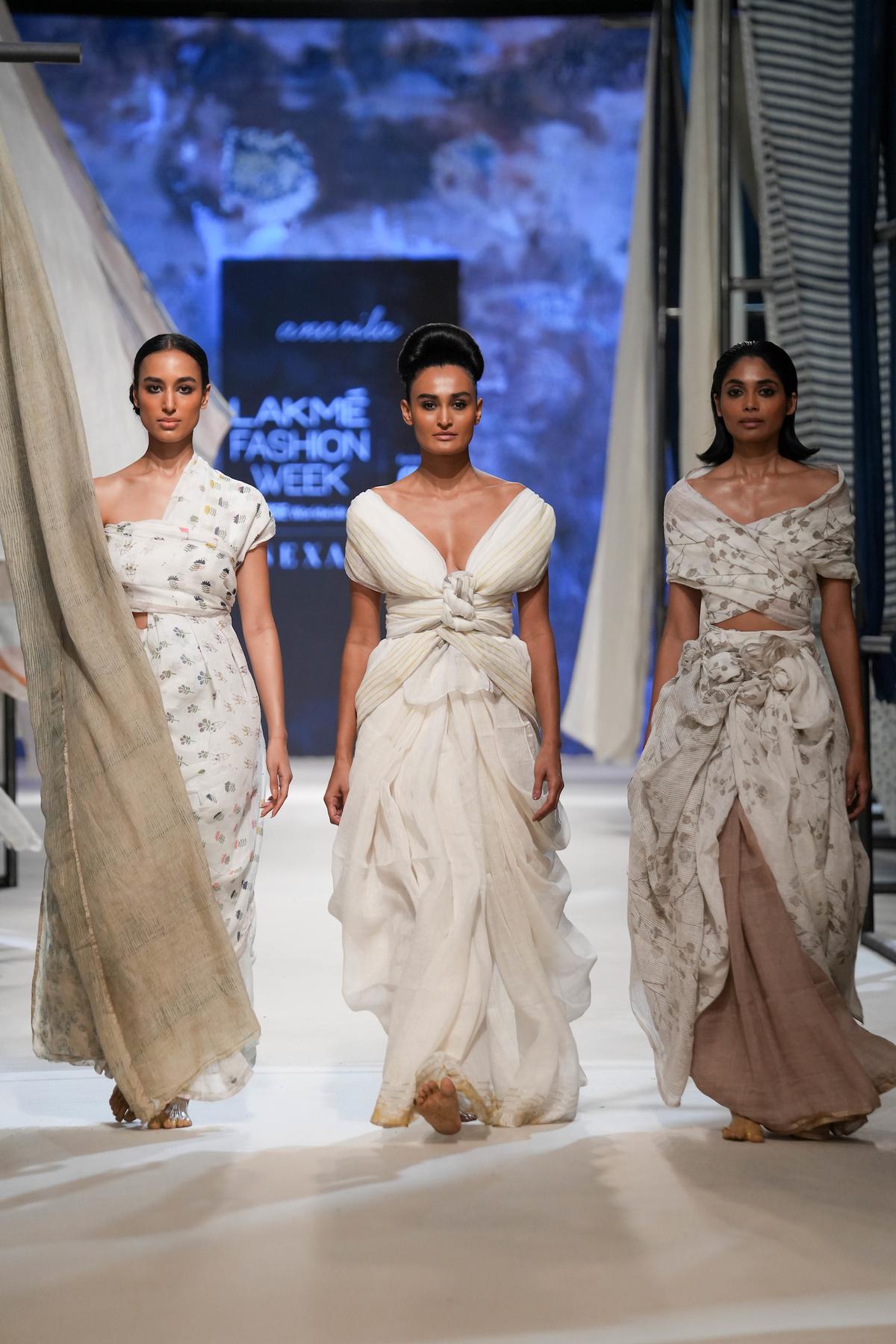 Collection of Anavila Mishra
It was interesting to see Mishra's imaginative presentation and unusual interpretation of the saree. The designers took us back to the pre-colonial times when sarees were worn without blouses and petticoats. Models walked the runway barefoot, drapes tied only with knots and twisting techniques. According to him, traditionally, drapes, knots and folds were carefully constructed around the body to carry everyday items such as money, coins and herbs.
The designer's drapes allowed for a sense of structure and stability to the unstitched garment that could please Gen Z and millennial wearers – the antithesis of the fluid quality of the sari.
i for inclusivity
This season, homegrown label Chamar was among three brands that participated in the Circular Design Challenge (CDC) – a platform for design entrepreneurs working in circular fashion, R|Elan (a sustainable clothing company), An initiative of FDCI x Lakme Fashion Week and the United Nations and the United Nations Environment Program (UNEP).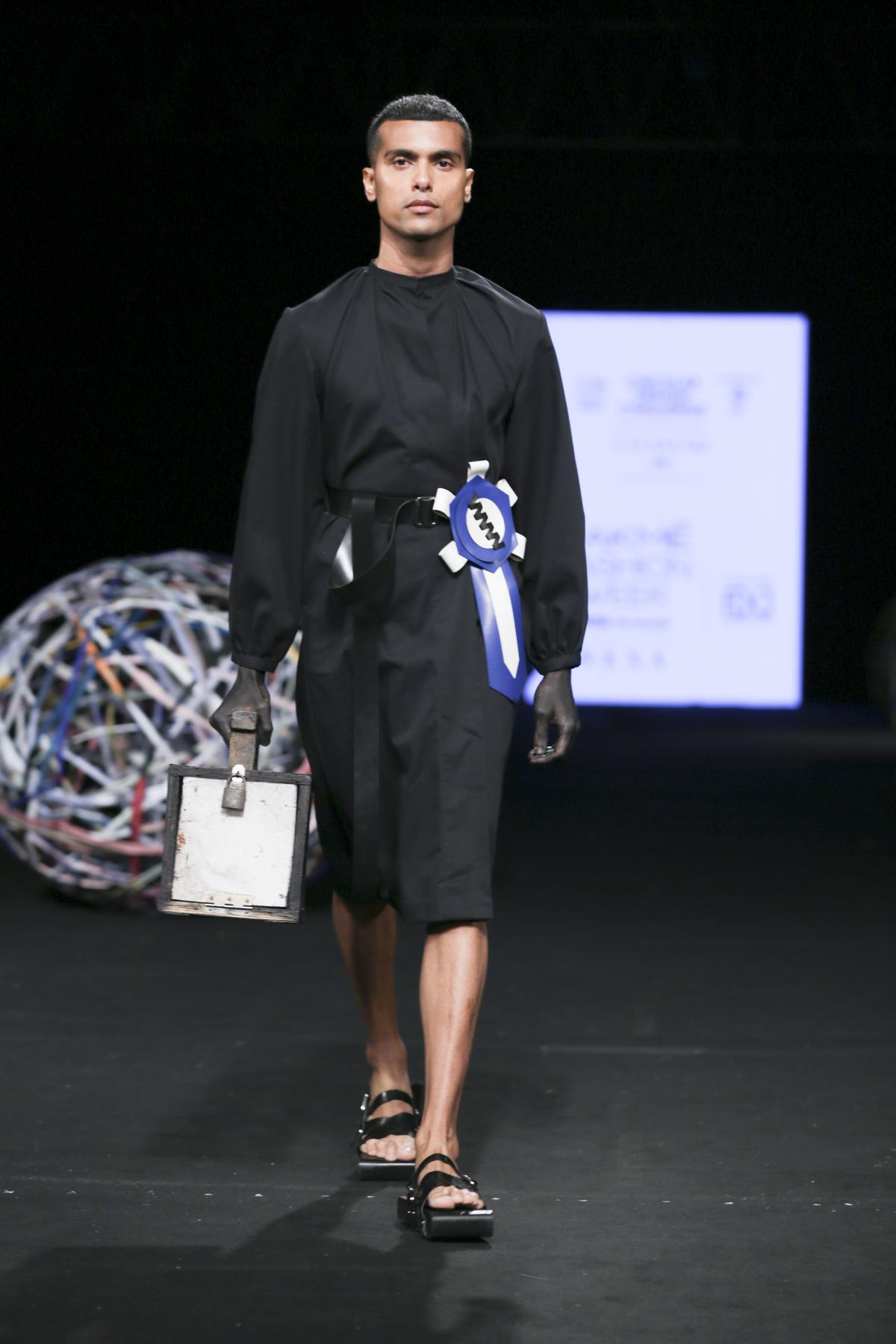 Chamar had this
Titled 'Blackening Boot Polish', the label's collection includes XXL totes, handbags, belts, fringed overlays, collars and other accessories made entirely from rubber recycled from industrial leftovers, automotive scrap and other waste materials . Sudhir Rajbhar, the founder of Chamar, brought modernity into everyday items while working with the Dalit community whose hereditary occupation is leather tanning. Rajbhar's models walked the runway dressed all in black and with their hands blackened – a symbol of the community's shoe shiners.
androgenic notes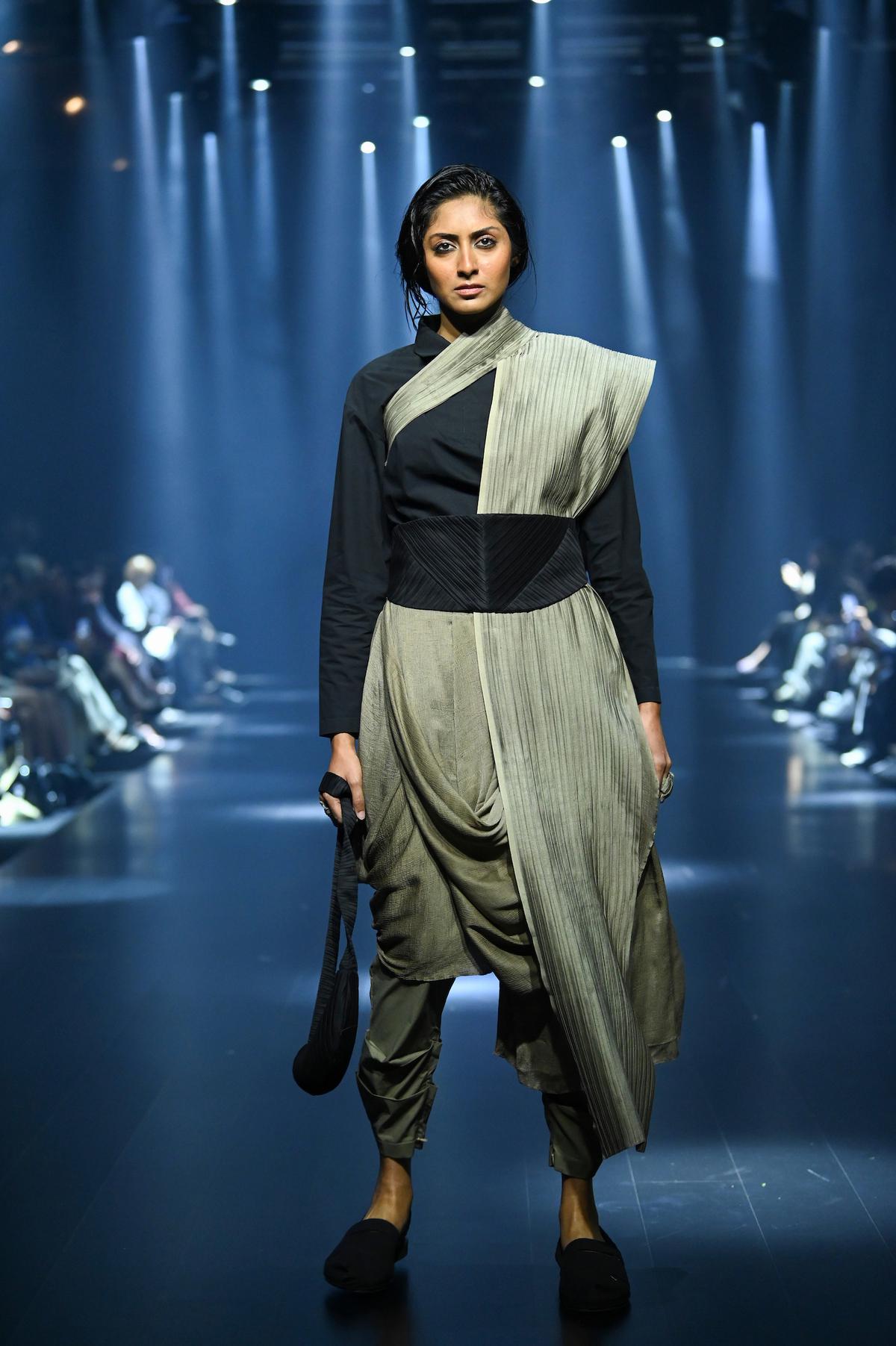 A model in the composition of Antar Agni
Striking the runway, models in Antar Agni's show presented a minimal tone-on-tone collection in ivory, mud green, mint and black. With the brand's signature styles like asymmetric kurtas, dhoti pants and co-ord sets, designer Ujjwal Dubey experimented with fluid draped silhouettes this season. For example, sari dupatta-inspired panels on tops and kurtas and skirts or mundu-like silhouettes made the case for gender-agnostic styles. Not just the fabric, the designer also used surface techniques like embellishments, pin tucking and micro plating to enhance the fabric.
ode to japan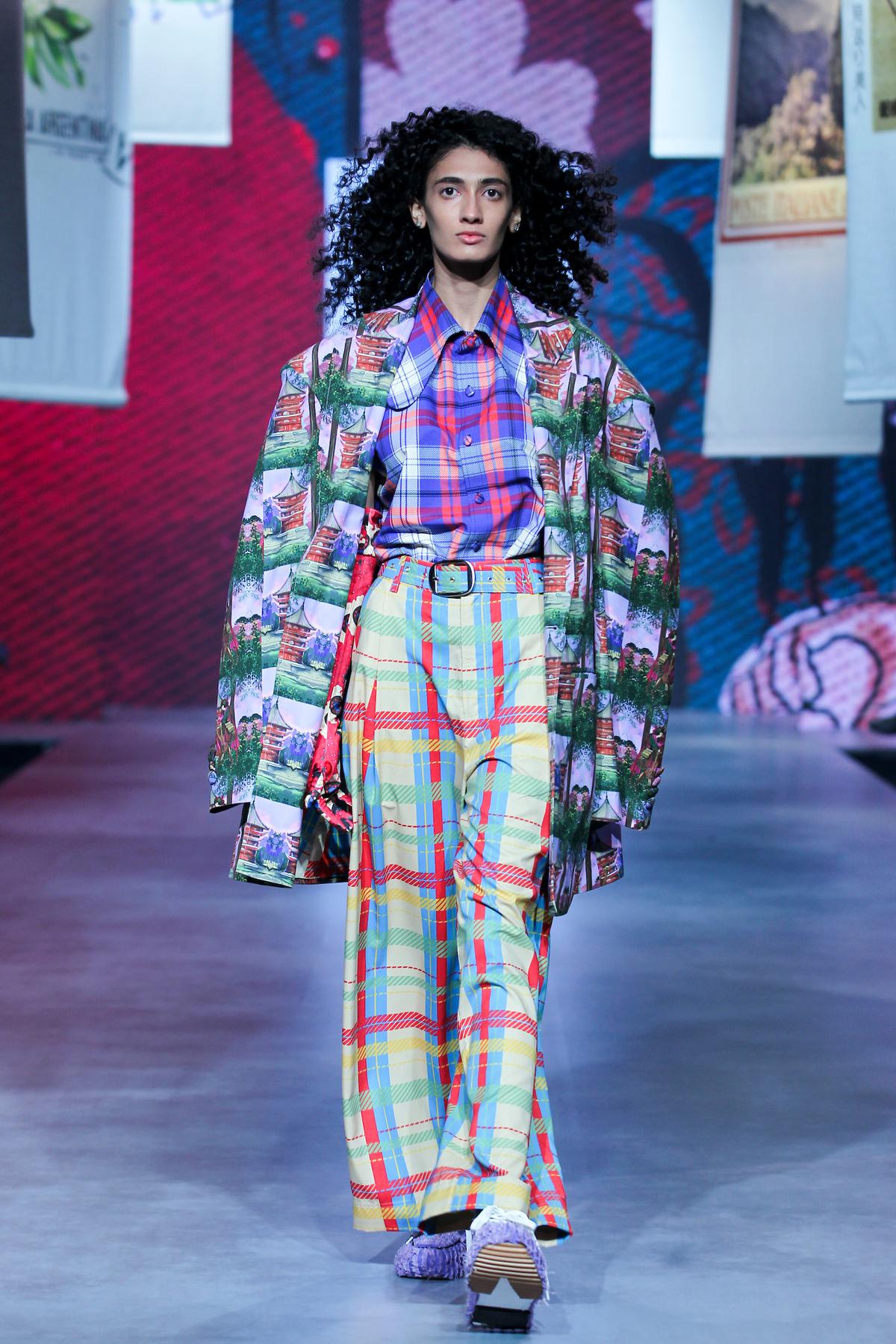 Anvita Sharma's collaborative collection with R|Elan
Two Point Two's Anvita Sharma turned to Japanese streetwear for inspiration for her collaborative collection with R|Elan. Oriental prints of samurai warriors and the Kabuki dance drama theater appeared on trench coats, shirts and trousers. Known for her inclusive design approach, the clothes were gender-agonistic and size-inclusive – baggy and oversized blazers, layered and puffer jackets, knee-length garments and denim populated the line-up. The looks were complemented by embroidered totes, duffle cross-body bags and sneakers with fabric trims.
fantasy curtains
Couturier Tarun Tahiliani brought his signature drapes back to the runway in his luxe-pret collection 'Sheer Drama'. Employing his 'India Modern' philosophy, Tahiliani used traditional Indian draping techniques to create modern styles. The collection included sharara sets, gowns, lehengas, concept sarees for women and ivory and champagne colored kurtas, bandhgalas and dhotis for men.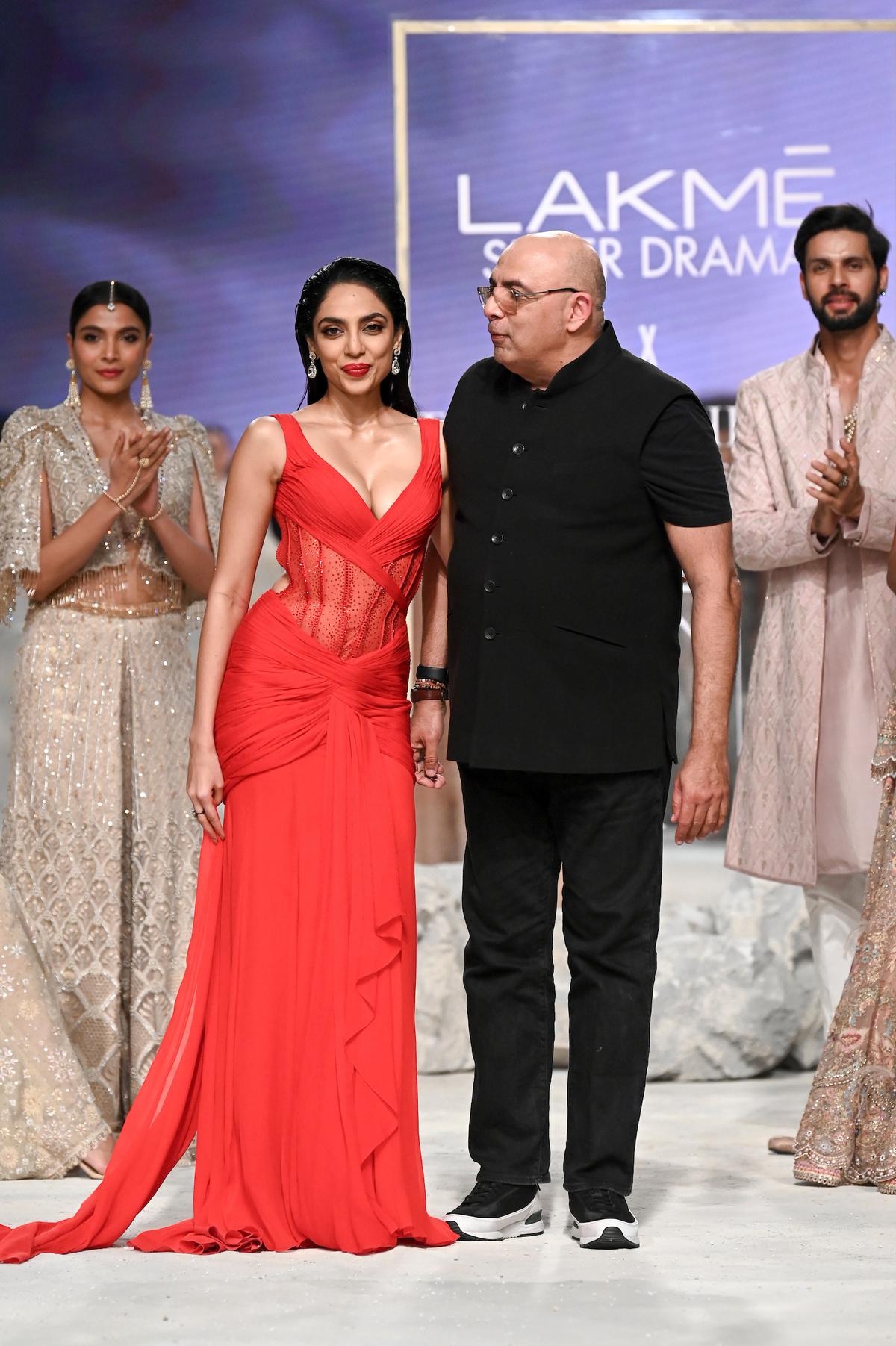 Shobhita Dhulipala with Tarun Tahliani
Tahiliani's well-tailored cholis, be it corsets, or form-fitted blouses in varying necklines, were married with effortless and trendy drapes in net, metallics and sheer organza fabrics, draped in rich embroidery, Which reduce the glamour. Actress Sobhita Dhulipala, who turned showstopper for the show, looked an organic pairing to the couturier's effortless aesthetic in a red corset, soft sequined gown.