Make use of government schemes, Union Home Minister Amit Shah tells graduates at MS University convocation vadodara news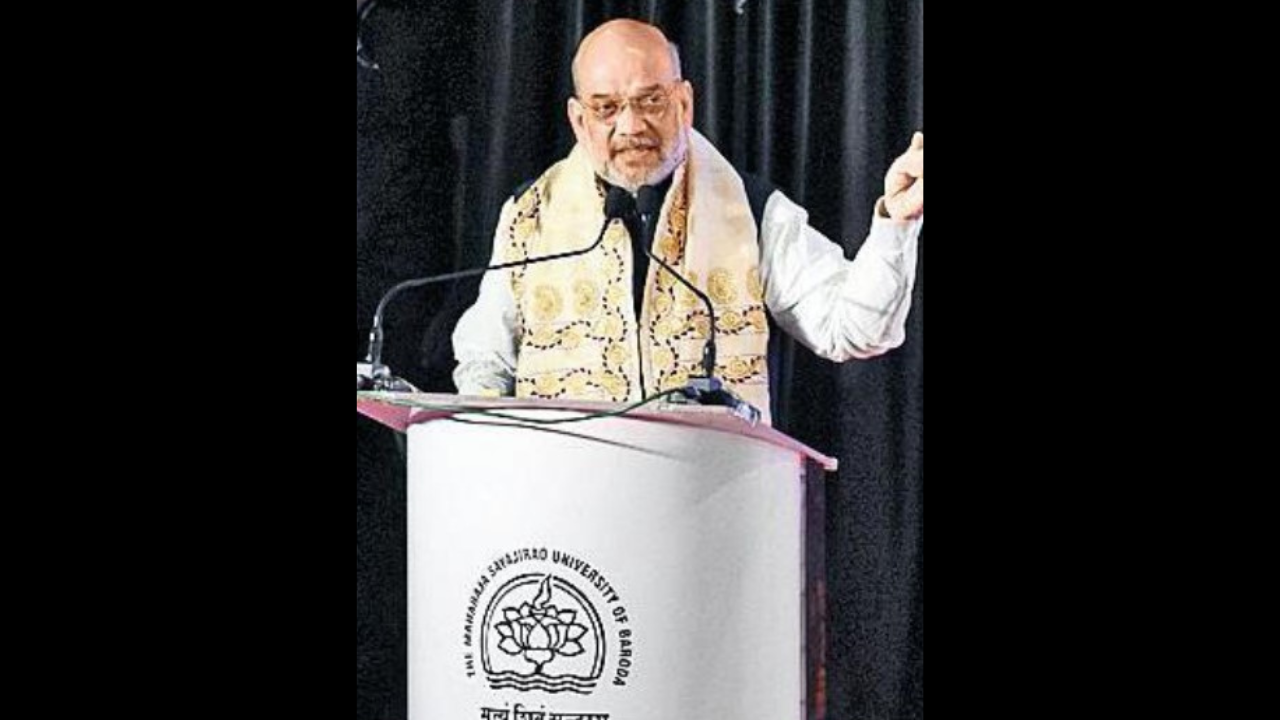 Vadodara: Addressing the 71st convocation of MS University (MSU), Union Home Minister Amit Shah called upon the youth to take advantage of various government programs and contribute to nation building.
Shah was the chief guest at the convocation ceremony held at Sir Sayajirao Nagar Griha in the city on Saturday.
Speaking on the occasion, Shah asked the fresh graduates to focus not only on developing themselves but also to help the country and others to reach greater heights. Listing out several stalwarts associated with Baroda College or MSU, Shah said, "Those who reach great heights individually are remembered in their lifetime, but those who contribute to the society and the country will always be remembered." is remembered."
Shah said that after the convocation, there will be no more students who get degrees. "From today begins your time to contribute to the society," he added.
The minister also remembered the visionary ruler Maharaja Sayajirao Gaekwad III and said that the Maharaja had established an administration which is exemplary even today.
Shah said, "Sayajirao showed us that if the welfare of citizens is in one's heart, then it can be implemented on the ground. He gave protection to many personalities who would contribute to the nation in the future, be it Maharishi Aurobindo Or Babasaheb Ambedkar."
He recalled how the Maharaja had established libraries in villages as well and recalled his contribution to the education of the girl child. He said, "Laws of divorce and widow remarriage were made during his rule. The visionary changed the dimension of education so that it could give employment. He started free and compulsory primary education."
Shah exhorted the gathering to study the new education policy as it would clear the concept of what education is for. He said the policy emphasized Sayajirao's ideas for accessible education, Sardar Patel's on empowerment, Ambedkar's ideas on knowledge, Maharishi Aurobindo's culture and nationalism and Gandhiji's mother tongue.
"The stage is set for you to compete with the youth of the world. What is required from you is to strive with vision and efforts till you succeed?" Shah pointed out that he likes the policies of the Modi government. startup india, Make in India And others had opened up many opportunities and possibilities.
A total of 14,671 degrees were awarded at the convocation. These include 8,048 girls and 6,713 boys. A total of 302 gold medals were awarded at the convocation. Female students won the maximum number of 187 gold medals while male students secured 115 gold medals.
Tagged:
Amit Shah
Make in India
MSU Convocation
startup india
today news vadodara
vadodara latest news
vadodara news
vadodara news live
vadodara news today