Make This 3-Ingredient Banana Pancake for a Healthy Start to Your Day
Pancakes are truly a favorite breakfast option. They are very easy to make, versatile, comforting and can be prepared using basic ingredients available in the kitchen pantry. This thin flat cake is usually made from a starch-based batter that may include flour, eggs, sugar, milk and butter. While pancakes certainly have a huge fan following around the world, they are not one of the healthiest breakfast options. The flour and sugar present in pancakes can cause a sudden spike in blood sugar levels and also lead to weight gain. However, there are many ways you can enjoy this breakfast dish. And one of the best ways to do that is by replacing ingredients with healthier alternatives.
Read also: 7 Healthy Pancake Recipes for Your Next Special Breakfast
Keeping this in mind, here we bring you a delicious yet healthy Banana Pancake recipe to make a healthy start to your day. Made with the goodness of bananas, oats and eggs, this pancake is not only delicious but also healthy. The best part is that you only need three ingredients to make this delicious pancake. Yes, you heard us. Make this Banana Pancake in less than 10 minutes and thank us later!
What are the health benefits of Banana Pancakes?
Bananas are rich in Vitamin C and are an excellent source of potassium. They also have a high fiber content and aid in digestion. These banana pancakes are light, fluffy and super healthy.
Can a pancake be healthy?
Yes, pancakes can definitely be healthier when they are made using nutritious ingredients. Try to choose healthy options as they will not cause a spike in your blood sugar levels.
Can You Eat Pancakes and Lose Weight?
Pancake can help in weight loss if made using natural ingredients. You can use whole grain flour instead of maida to make your pancakes healthier. It is best to avoid refined sugar in the recipe. Stop putting maple syrup, chocolate syrup or ice cream on your pancakes.
Read also: Cooking Tips: 5 Simple Hacks To Make Pancakes Fluffier (Recipe Inside)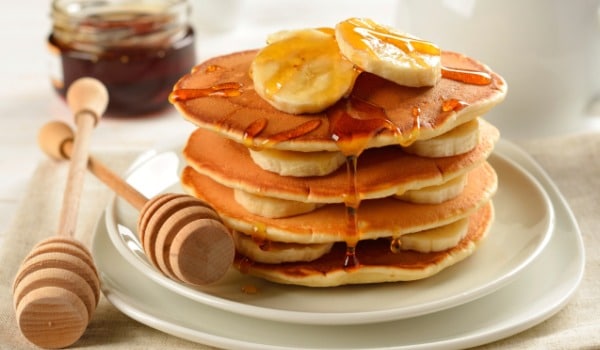 How to Make 3-Ingredient Banana Pancakes | Banana Pancake Recipe
To make this pancake, all you need is bananas, eggs, oatmeal and that's it! You can literally make this pancake with just three ingredients. First of all take bananas, eggs and oats in a blender. Blend till you get a smooth batter.
Now heat a pan on low-medium heat and add two scoops of batter. Let it cook for some time and then flip the pancake so that it cooks evenly on both the sides.
Once done, transfer to a plate and serve hot with maple syrup and butter. You can also top it with some whipped cream or any fruit of your choice.
Click here for the step-by-step recipe for Banana Pancakes.
Sounds simple, doesn't it? Try this delicious recipe at home and do let us know how you liked it in the comment section below. If you are looking for more pancake recipes, click here.

Tagged:
Banana Pancake Recipe
Healthy Pancake Breakfast
Healthy Pancake Recipes
Healthy Pancakes
healthy pancakes recipe
Oat Pancakes
Pancake