IIT-BHU conducts five-day course on drug design, bioinformatics, health news, ET Healthworld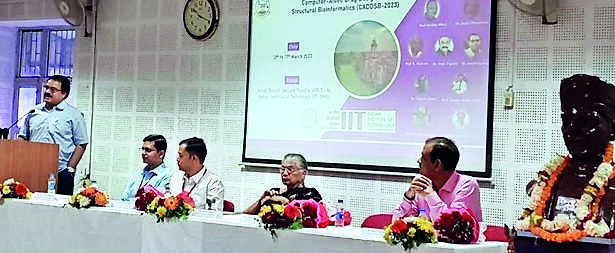 Varanasi: The Interdisciplinary Data Analytics and Predictive Technologies (I-DAPT) Hub Foundation under the National Mission on Interdisciplinary Cyber-Physical Systems (NM-ICPS) at IIT (BHU) has organized a five-day short-term course program on Computer Science. Aided Drug Design and Structural Bioinformatics 2023 (CADDSB-2023) from 13 March to 17 March.
Project Director and Dean (Research and Development) of I-DAPT Hub Foundation, Prof. Vikas Kumar Dubey told that about 80 participants from all over India are participating in this course. He added that the invited lectures and hands-on sessions from leading experts in the field will certainly open up new vistas of specialized knowledge in the field of artificial intelligence/machine learning-enabled computational biology discovery and ultimately health informatics and translational research.
"I strongly believe that this is in perfect sync with the healthcare initiatives of the Government of India and the visionary national mission of PM Narendra Modi like 'PM Ayushman Bharat Health Infrastructure Mission'," said Professor Pramod Kumar Jain, Director. Each day consists of two hands-on training sessions by experts that will help create trained manpower for Indian industry and academia.
RK Singh, Project Coordinator, I-DAPT Hub Foundation, said that such courses would enable the younger generation to think analytically about critical health issues. The course coordinators, Aditya Kumar Padhi and Sumit Kumar Singh highlighted that the content of the course will significantly enhance the fundamental and applied knowledge of the participants.
On the first day of the event, Professor Krishna Mishra, IIIT-Allahabad, in his inaugural lecture elaborated on the importance of bioinformatics in solving healthcare problems and disease management and highlighted the career opportunities in bioinformatics. Ravi Khare, CEO of Symphony Technologies, shared a holistic overview of the role of modern statistical tools in drug development and manufacturing.
Anshu Bhardwaj, a principal scientist from IMTECH, Chandigarh, discussed the applications of rising antimicrobial resistance (AMR) and data-driven drug discovery using machine learning, network pharmacology and dynamic pharmacophore approaches in mitigating the threat. Timir Tripathi from North-Eastern Hill University discussed various nuances of research ethics and integrity in the presentation of structural data.
Janesh Kumar from CCMB Hyderabad discussed the nuances of cryo-electron microscopy technique and its application in drug discovery. Professor B Jayaram, Professor, IIT Delhi demonstrated the utility of a supercomputing facility, various computational suites and software (Sanjeevani, Bhagirath, Dhanvantari), all developed indigenously in his laboratory at IIT Delhi, for drug development. can significantly reduce the time limit.
Tagged:
A Kumar
Ayushman Bharat
BHU
cyber-physical system
dream act
health News
IIT
Indian Institute of Technology
National
NTA
Structural Bioinformatics 2023