Cooking Tips: How To Make Crispy Banana Chips (Easy Recipe Inside)
Crunchy, yummy and delicious, chips are something that no one can stop themselves from eating. They always come to our rescue whenever we crave for something salty and crunchy, in the evening with a cup of hot tea or while watching our favorite shows at night. Although you will find different types of chips in the market, but what can be a better comfort than eating home made desi chana. Talking about desi snacks, Banana Chips is one such snack which is very popular in South India. This delicious snack is known for its thin and crispy texture, and makes for a delicious snack to eat.
Read also: 5 Best Chips Recipes To Make At Home: Potato Chips, Banana Chips And More
These crispy delicacies are made from raw unripe bananas and deep fried till golden in colour. They can be sweet or savory in taste, and are often flavored with spices such as red chili powder and black pepper. While most of us prefer to buy this South Indian snack from the market, it is best to make fresh banana chips at home. Now you might imagine that making banana chips from scratch takes a lot of time and effort. But what if we tell you that you can easily make this delicious snack at home? Here we come up with a simple recipe for banana chips that will make sure they turn super crispy.
Here are some tips for making crispy banana chips at home:
1. Use the Right Kind of Banana
Using the right kind of banana helps ensure that your banana chips turn out crispy. Choose firm and unripe bananas as they have less sugar content. If possible, try to get your hands on starchier banana varieties like the Nendran and Sabah varieties.
2. Cut them thinly
The next thing to keep in mind while making banana chips is to slice them thinly. Make sure they are evenly cut, as this allows them to cook evenly. The thinner your banana chips, the crispier they will be.
3. Soak them in salt water
Once you've sliced ​​the bananas, soak them in a bowl of salted water for a few minutes. This helps in removing excess starch from the bananas and prevents them from sticking together while frying.
Read also: Bored of Potato Chips? 5 Unique and Delicious Chips Recipes You Must Try at Home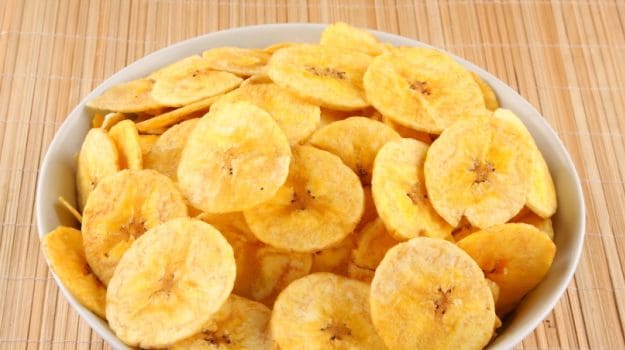 Crispy Banana Chips Recipe: How To Make Crispy Banana Chips
Firstly, in a bowl add banana pieces, salt and turmeric and let it set for about 4-5 minutes. Now, give it a good mix and transfer in a sieve to drain completely. Heat some coconut oil in a pan on medium heat.
Add banana slices in small batches and fry till crisp and golden in colour. Once done, transfer to a paper napkin. Sprinkle some salt and red chili powder on top and let them cool. Store in an air-tight container for up to one week. Serve and enjoy!
For the full recipe for Crispy Banana Chips, click here.
Do try this recipe and let us know how it worked for you in the comments section below. If you're looking for more South Indian snacks, click here for some of our best recipes.

Tagged:
banana chips
Banana Chips Recipe
cooking tips
How to make Crunchy Banana Chips
south indian snacks
South Indian Snacks Recipes