All-women night walk takes you down one of the oldest streets in Bengaluru
Participants of the Women's Night Walk at their final stop at Rice Memorial Church, Chickpet, Bengaluru Photo Credit: Indraprabha Appuswamy
A group of women in Bengaluru recently took to the streets for a ladies' night walk in the bustling Chickpet area, one of the city's oldest neighborhoods known for its wholesale and retail clothing stores. is famous. The guided tour, called 'Peet by Night Walk' organized by Gully Tours, took participants through the narrow lanes of Chickpet, highlighting its unique nightlife and historical significance.
Vinay Parameswarappa, founder of Gully Tours, says the walk was conceived to encourage more women to feel comfortable and safe in public places at night. "We narrowed it down to Chickpet as a team because we had only one question in mind – what places would women go if they didn't have to worry about anything." The march started at 6 pm and ended at 9 pm.
on the ground
During the walk, stepping into the area felt like entering a whole new world where anarchy reigned supreme. The cacophony of the bustling crowd was overwhelming, with no sense of personal space or boundaries. If you head to Chickpet, you'll find yourself caught up in the frenzy of the crowds, who make their way through the narrow streets with reckless abandon.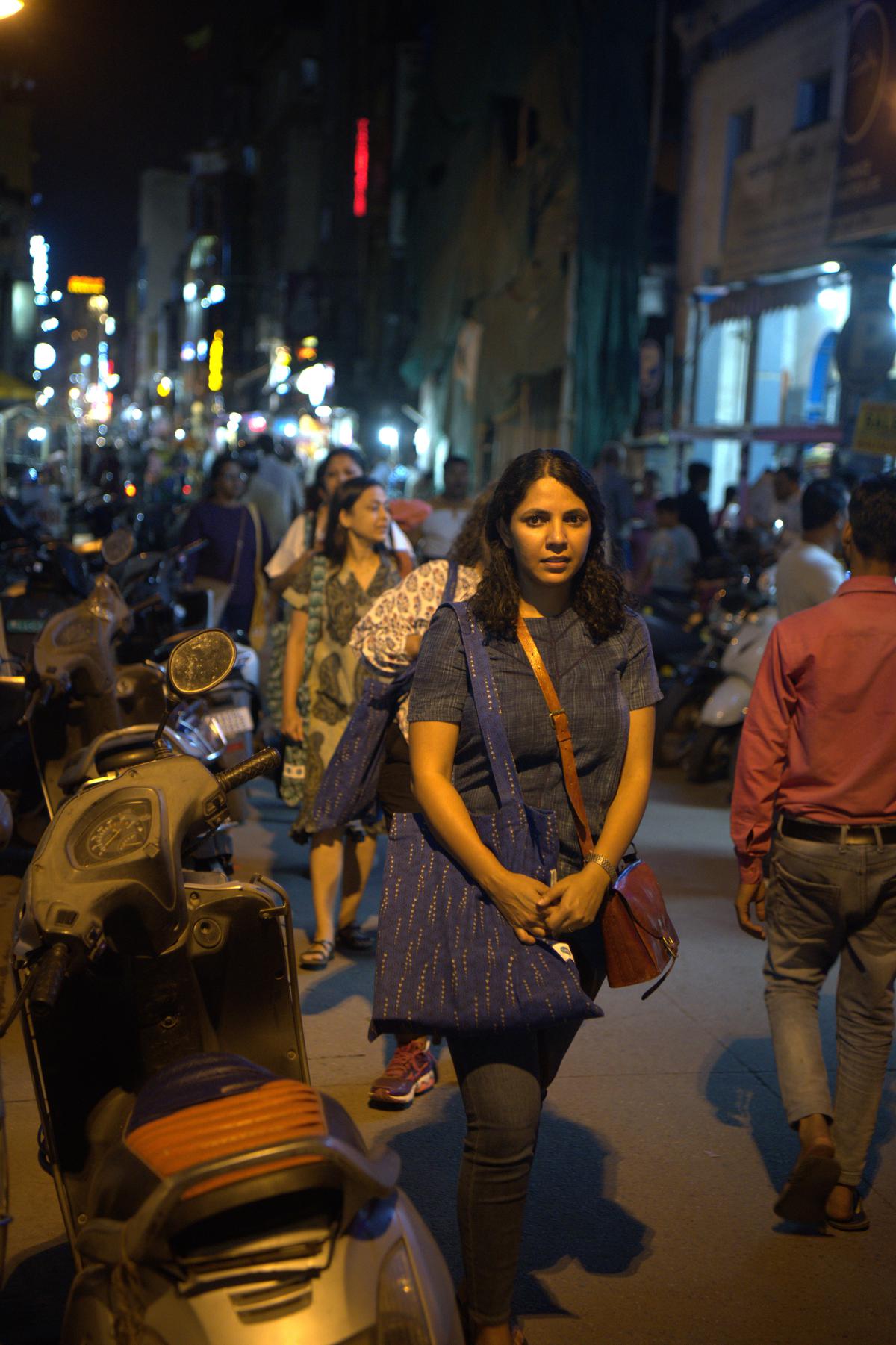 Women's night out in Chickpet. , Photo Credit: Indraprabha Appuswamy
If you're not careful, you can get hit by a passing wheel every other turn. It's a sight that can be intimidating to many, causing them to avoid the area altogether at night. However, it's a shame to miss the vibrant energy of Chickpet, which has some of the city's most famous silk sari shops, hole-in-the-wall eateries and hot almond milk sold on carts.
However, the two tour leads Raksha Shenoy and Mridula Hegde were like knights in shining armour, carefully guiding the group of women through each shop, eatery and historic building, with the occasional pit stop for hot jalebi and almond milk with.
"I've always yearned to explore this part of the city, but I've never wanted to be here alone," says Tulika Bhattacharya, 24, a city-based consultant who participated in the walk. She credits the success of the tour to the leadership of Mridula and Raksha, adding that it was not difficult to go on despite the commotion. "However, if there was a man directing us to go left, right, straight, it wouldn't work here… You need women sensitive about personal boundaries, a safe space to walk like this." sense to make," she adds. ,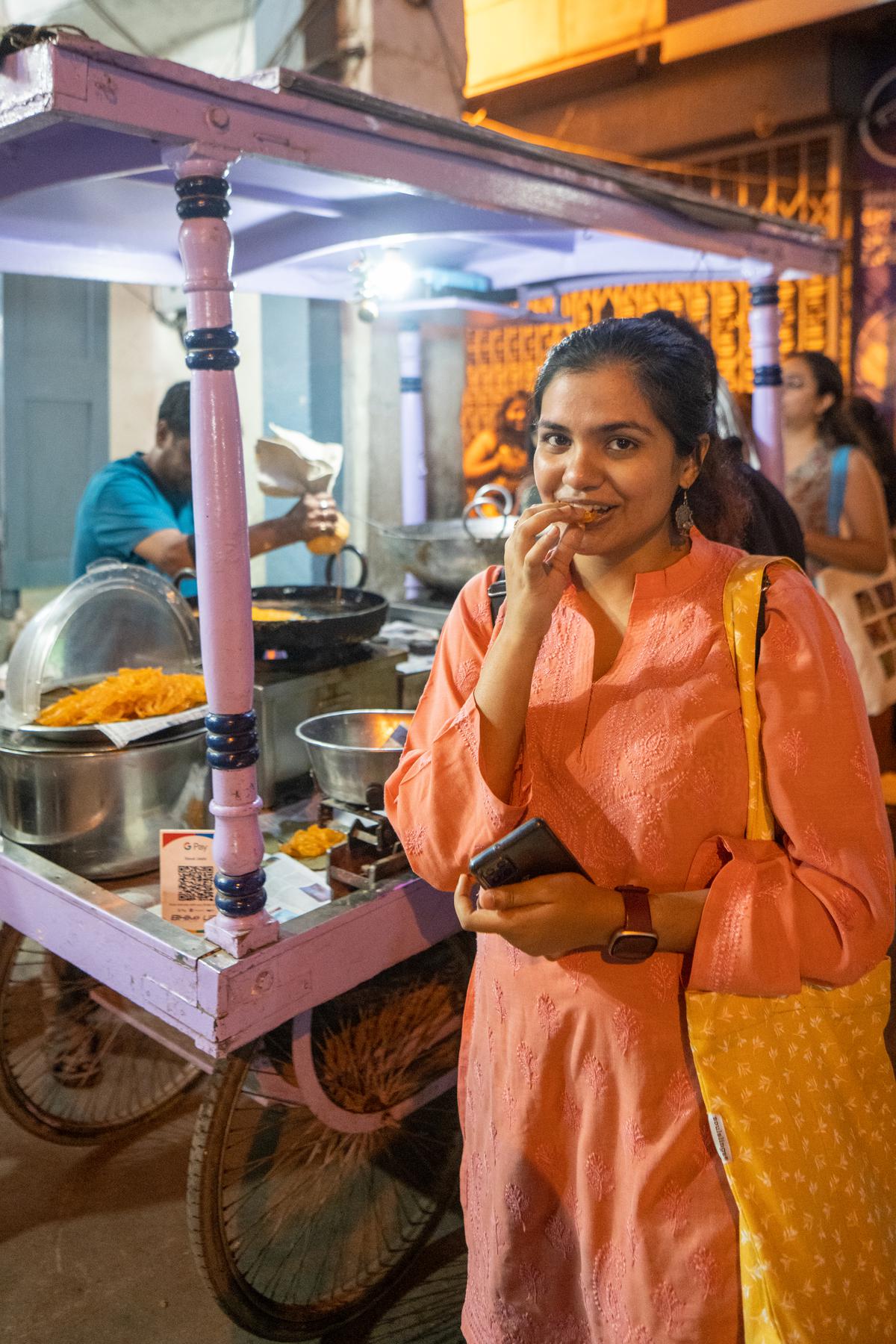 City counselor Tulika Bhattacharya, 24, tried hot Jalebi From a street cart in Chickpet during a walk. , Photo Credit: Indraprabha Appuswamy
Read this also | Ever tried traveling in India? Meet locals who double as historians and curate trails
women in focus
"This is the first time we have done a night walk for women in the city," says Mridula. "If you walk these streets alone you may not feel comfortable, but when we work together as a group of women, we can make it easier for other women to come out here and reclaim these streets. Let's create a safe space for them," says Raksha.
The Night Walk was more than just a historical tour or culinary adventure. As groups of women strolled the streets, making their way through crowds of men, enjoying the sweet taste of Street corner Jalebis in the dark, they were also sending a powerful message to the men around them: that every woman has the right to feel safe and free in her own city.
Gully Tours is looking to return to Chickpet for another all-women night walk on March 25 and Commercial Street on March 18. For details, visit gully.tours/ or call +91 9632044188.
Tagged:
all-women night walk in bangalore
All-women night walk in Bengaluru
Bangalore
Chickenpet
Chickpet Midnight Walk
mridula hegde
Raksha Shenoy
Rest
sightseeing
street tourism bangalore
Tulika Bhattacharya
Vinay Parameswarappa
women take a midnight stroll
women walking in bangalore
women walking in bengaluru