Aitelecom/APCO Networks partners with Astranis and ST Engineering iDirect to provide highly competitive enterprise and backhaul services throughout Mexico
Powerful MicroGEO satellites combined with the groundbreaking MX-DMA MRC waveform enable a new level of scale, agility and service experience
Herndon, VA, San Francisco, CA. and Merida, Mexico, March 16, 2023 – ST Engineering iDirect's flagship Mx-DMA® MRC waveform technology will enable Mexican connectivity service provider Aitelecom/APCO Networks (Aitelecom) to support services on its new MicroGEO satellites, built by satellite manufacturer, Astranis Space Technologies (Astranis) Will go The satellite and ground infrastructure will provide critical connectivity for 4G cellular backhaul and enterprise services throughout Mexico and part of Central America. Deployed on Aitelecom's existing Dialog® platform, the services will be made available at hundreds of sites across the country and parts of Central America.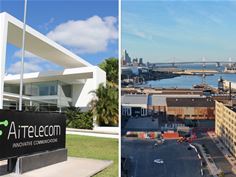 AItelecom Offices and Astranis Overhead Skyline
The agreement further strengthens the long-standing relationship between ST Engineering iDirect and Aitelecom and creates a roadmap for the future, which will see the companies grow together to meet Aitelecom's current and future needs. Will see what happened.
The demand for cellular backhaul services across Mexico has seen a major increase in recent years. In 2022, more than 74 percent of mobile phone users in Mexico will access the Internet through their mobile phones. By 2027, it is projected that this will increase to about 88 percent [1],
ST Engineering iDirect's MX-DMA MRC return technology and GTP acceleration was a key consideration for Eitelcom as it would enable the company to serve myriad use cases in a single return link without making tradeoffs between speed, efficiency and scale. It also lowers their total cost of ownership, while reducing network configuration complexity and creating flexible connectivity for all LTE/4G site types. The Mx-DMA MRC enables Aitelecom to expand its services while simplifying its operations, sharing capacity seamlessly and very efficiently between its user terminals and meeting the most demanding throughput requirements presented by its MNO and enterprise customers. Will empower
US-based Astranis' microGEO satellites are small and highly capable spacecraft that are designed and manufactured faster and at a lower cost than larger GEO satellites. The satellites are scheduled to be launched in the third quarter of 2024 and will enable Aitelcom to go to market faster providing high speed, flexible services with advanced ground infrastructure.
"We are excited and motivated to take the next step in our company's evolution towards a fully integrated service provider that controls its own destiny in terms of capacity, technology and service delivery," said Orlando Castillo, CEO of aitelcom. "With ST Engineering iDirect's MX-DMA MRC as the focal technology, we are confident that service continuity, quality of service and unparalleled support will be paramount in the delivery of our solutions to our customers."
"We are excited to partner with Aitelcom and ST Engineering iDirect to offer an end-to-end, managed service for our customers," said Doug Abbotts, Astranis Chief Commercial Officer. "This offering will allow us to expand high-speed coverage throughout Mexico, offering a turnkey service for an affordable price."
"The full flexibility of the MX-DMA MRC will enable Atelcom to operate and cost-optimize the fast-growing markets in Mexico and Central America," said Darren Luddington, regional vice president for the Americas at ST Engineering iDirect. "Extending our commitment and partnership with Aitelecom allows them to enhance their service delivery to reach new parts of the region."
[1] Source: Statista
,
About ST Engineering iDirect
ST Engineering iDirect, a subsidiary of ST Engineering, is a global leader in satellite communications (satcom) providing technology and solutions that enable its customers to expand their businesses, differentiate their services and optimize their satcom networks Makes With more than 40 years of focus on solving satellite's most pressing economic and technology challenges, we are committed to shaping the future of how the world connects. The product portfolio, branded iDirect, represents the highest standards in performance, efficiency and reliability, making it possible to provide its customers with the best satcom connectivity experience anywhere in the world. ST Engineering iDirect is a leader in key industries including mobility, broadcast and military/government. In 2007, iDirect Government was formed to better serve the US government and defense communities. Visit www.idirect.net for more information.
About Aitelecom/APCO Network
We are the leading developer of satellite and terrestrial communications in Mexico. Our specialty is "connecting organizations anywhere in Mexico and Central America."
We also offer administration of internet services that provide high level of efficiency at low cost, promote use of technologies, impart knowledge to areas where technology has not reached and difficult to reach communities , as well as provide solutions for each case.
About Astranis
Astranis is building small, low-cost telecommunications satellites to connect the four billion people on Earth who currently don't have access to the Internet. By owning and operating its satellites and offering them to customers as a turnkey solution, Astranis is able to provide Bandwidth-as-a-Service at a fraction of the cost of legacy providers, unlocking previously inaccessible markets. Is.
media Contact:
Julie Bettinger
Vice President, Corporate Marketing
ST Engineering iDirect
Phone: (1) 703 648 8155
Email: jbettinger@idirect.net
rula malki
Senior Manager, Corporate Communications
ST Engineering North America
Phone: (1) 571 771 0176
Email: rula.malky@stengg.us
Plinio Rivera / Ricardo Belmonte
corporate marketing
Eitelcom SA de CV
Phone: +(52) 999 9201200
Email: privera@aitelcom.net
Christian Kiel
chief of staff
Astranis
Email: christian@astranis.com