5 killed in rain, thunderstorm in Gujarat | vadodara news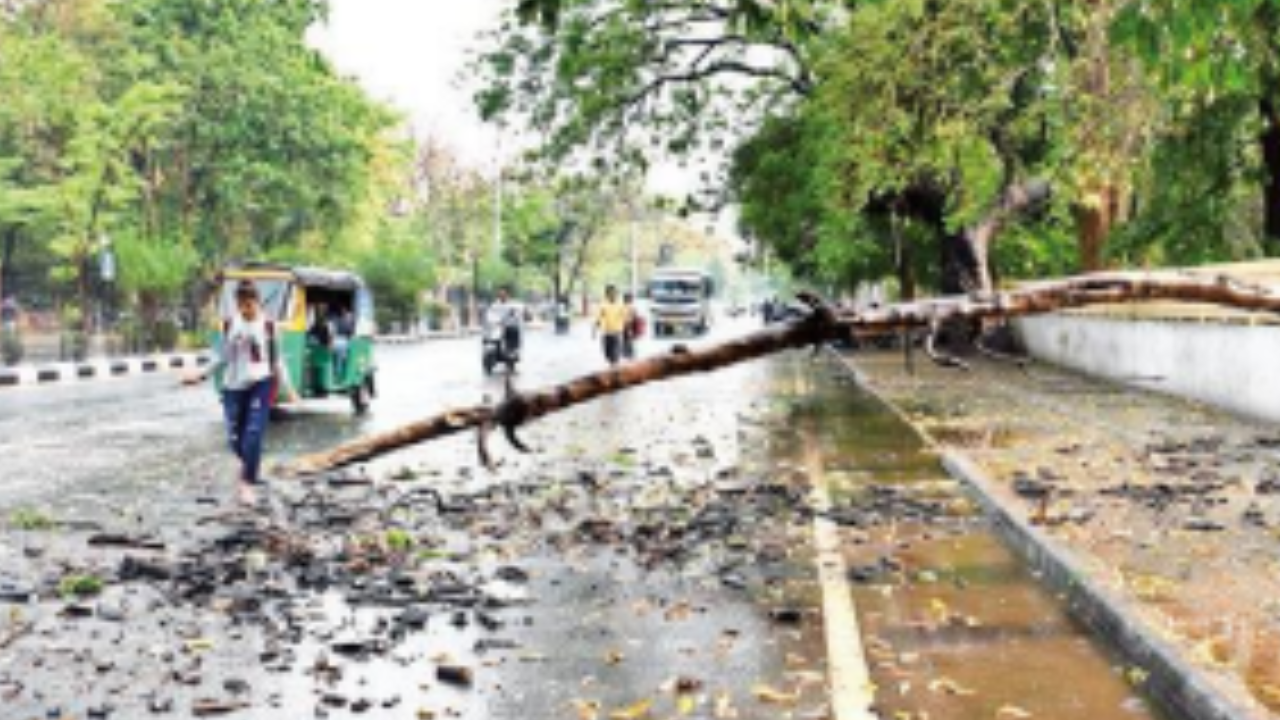 Vadodara/Palanpur: Rain and thunderstorm lashed several parts of central Gujarat on Friday, leaving five people dead, four of them due to lightning.
In the afternoon, suddenly the sky became cloudy with strong winds, rain and hailstorm also occurred at many places.
Two people died and two others were injured in Dahod and Garbada talukas of the district after being struck by lightning in Dahod and Garbada talukas of the district.
Three people living in Tunkivaju village of Garbada taluka were seriously injured when lightning struck their house. One person, Manu Kharadu (70), died and two others are hospitalised. Treatment. The other woman who died was Gendi Mavi (57) of Borkheda village in Dahod district.
In Abhlod village of Garbada, a tree fell on a person named Ishwar Mandod, due to which he died on the spot. Cattle were also killed by lightning in Galiyawad, Varamkheda and Kalitalai villages.
In the adjoining Panchmahal district, rainfall was reported in Godhra and Ghoghamba taluks.
Torrential rain accompanied by strong winds lashed Aravalli district in northern Gujarat. A person named Sangaji Rabari died due to lightning in Budharli village of Bhiloda taluka.
Unseasonal rains and hailstorms have put farmers in worry. Many of them posted pictures of fields battered by the inclement weather and crops, mostly wheat, ready to be harvested, deteriorating.
"We borrow money to buy expensive seeds and pesticides and then work hard day and night hoping for good returns," said Rasiklal, whose wheat crop was severely damaged.
Heavy rains in rural areas of Modasa taluka caused huge damage as water entered grain markets and storage godowns. Roads were flooded and fields were flooded, destroying crops, especially wheat.
In Latepura village of Padra taluka near Vadodara, a man identified as Thakor Prabhat Padhiyar was struck by lightning while he was working in his field. A woman working nearby was also injured. Three cows also died due to electrocution in Tajpura village of Padra.
The India Meteorological Department (IMD) bulletin said that an induced cyclonic circulation over Rajasthan and Kutch resulted in wet weather which is expected to persist for three more days.
Tagged:
Gujarat
gujarat news live
gujarat rain
Gujrat storm
rain news in gujarat
today news vadodara
vadodara latest news
vadodara news
vadodara news live
vadodara news today